About Sharon Williams (née Price) – motivation, qualifications and experience.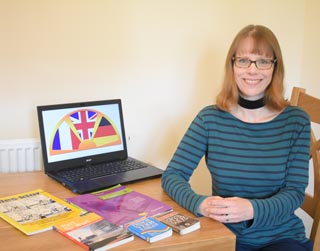 With over twenty years' teaching experience, languages are not only my job, but my own personal passion. My motivation is to inspire a love of languages in others and see them achieve their aims. I am a patient, encouraging, enthusiastic, friendly and dedicated teacher. Setting up Languages For Living and being able to combine teaching with working as a translator is a dream that I am thrilled to have been able to realise.
Qualifications:
I gained a high 2:1 BA Honours degree in German with French from Hull University and I was also awarded the Prize for the best student of German that year, 1997. During my degree I spent a year living in Germany and studying at Münster University. I then completed an MA in German Studies at Swansea University, followed by a teaching qualification at Pembrokeshire College.
Experience:
I taught French and German AS Level and A Level at a Sixth Form College for 8 years, and have been giving private one-to-one tuition at all levels from complete beginners to degree level for the past twenty years. In addition, I taught community language classes for Aberystwyth University and have also taught 4-11 year olds for the national organisation, Le Club Français.
Successes:
I am proud to say that I have a 100% pass rate for all my students who have taken GCSE, AS Level and A Level exams throughout my teaching career. In the FE College ESTYN Inspection in 2007, I led the Modern Languages department to a Grade 1 (the highest), and I was also awarded a Grade 1 for my assessed teaching session. (ESTYN is the office of Her Majesty's Chief Inspector of Education and Training in Wales). Many of my students have gone on to study languages at University or to work abroad.